Historic Amateur Theatricals !
"Playing To -- and With -- Audiences To Bring History Alive"

Post Office Box 11045, Portland, Ore. 97211 - (503) 335-3876
NEWS RELEASE
FOR RELEASE ON: Media Contacts:
Friday, December 8th, 2006 Al LePage, Living History Character & Performer, Historic Amateur Theatricals! / 503-335-3876
Sam Rascoe, Director of Marketing, Clatsop County Historical Society / 503-325-2203
David Hablewitz, Executive Director, Clatsop Community Action / 503-325-1400


"Amateur Thespian" Gives Dramatic Readings of
Charles Dickens "A Christmas Carol" 1856-Style!
Time travel in Astoria with living history character "Englishman Thomas Hutchinson"
as he presents the timeless holiday classic of personal transformation and charity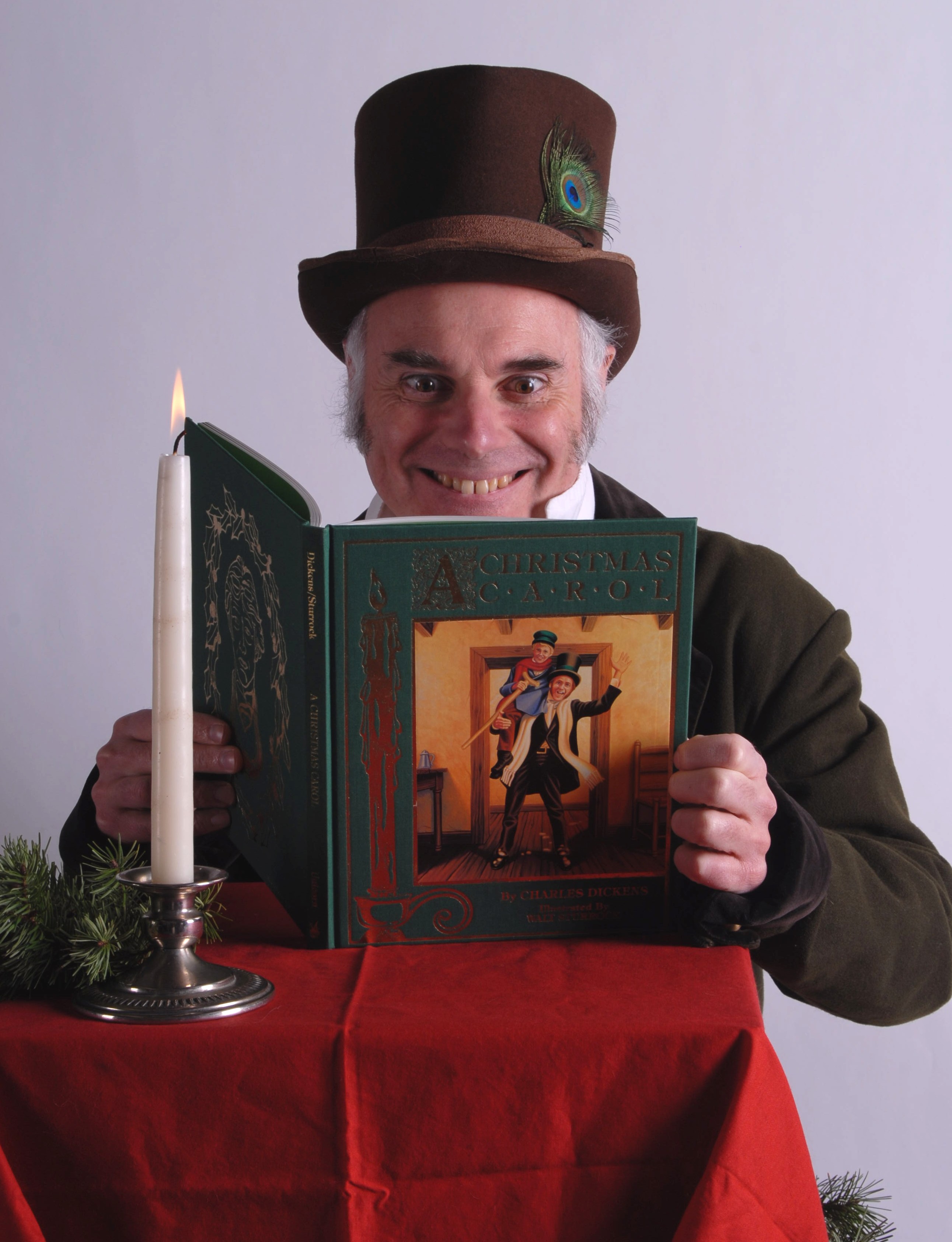 Two dramatic readings of Charles Dickens "A Christmas Carol" will be presented in the style of the Victorian era to benefit the Clastsop County Historical Society and Clatsop Community Action in Astoria, Oregon. Al LePage, who has portrayed various characters of Pacific Northwest history over the years, will perform as "Englishman Thomas Hutchinson, Amateur Thespian" complete with English accent, clothing of the period and other accoutrements. The first reading will take place on Thursday, December 21st at 7PM in the Flavel House at 441 Eighth Street, Astoria with all proceeds going to the Clatsop County Historical Society, admission for the first evening event being $15 for the general public and $8 for society members. The second reading will take place as a matinee on Friday, December 22nd at 2PM at the Performing Arts Center at 16th and Franklin Street in Astoria in partnership with the Arts and Ideas Program of Clatsop Community College with all proceeds going to Clatsop Community Action. The suggested donation for the matinee reading being $5 adults, $3 children and two cans of food per person, however, as long as there are seats available no one will be turned away who does not make a donation for whatever reason. Each program is expected to be about 2 hours in length, the introduction will involve direct interaction with, and participation by, audience members, and is best appreciated by children 8 years of age and older.


"Bringing history to life by portraying people from past," begins LePage, "is a very powerful way to engage people, and connect them with the history of where they live or visit. Great stories can make people more aware of the reality that surrounds them, and connect them with others and within themselves for greater understanding and compassion. Live drama can bring these great stories to life in a way that provides both entertainment and insight. So, given all this and the themes of personal transformation and charity in Dickens 'A Christmas Carol,' it simply makes a lot of sense to donate my time and talents to benefit others through dramatic readings of this particular story."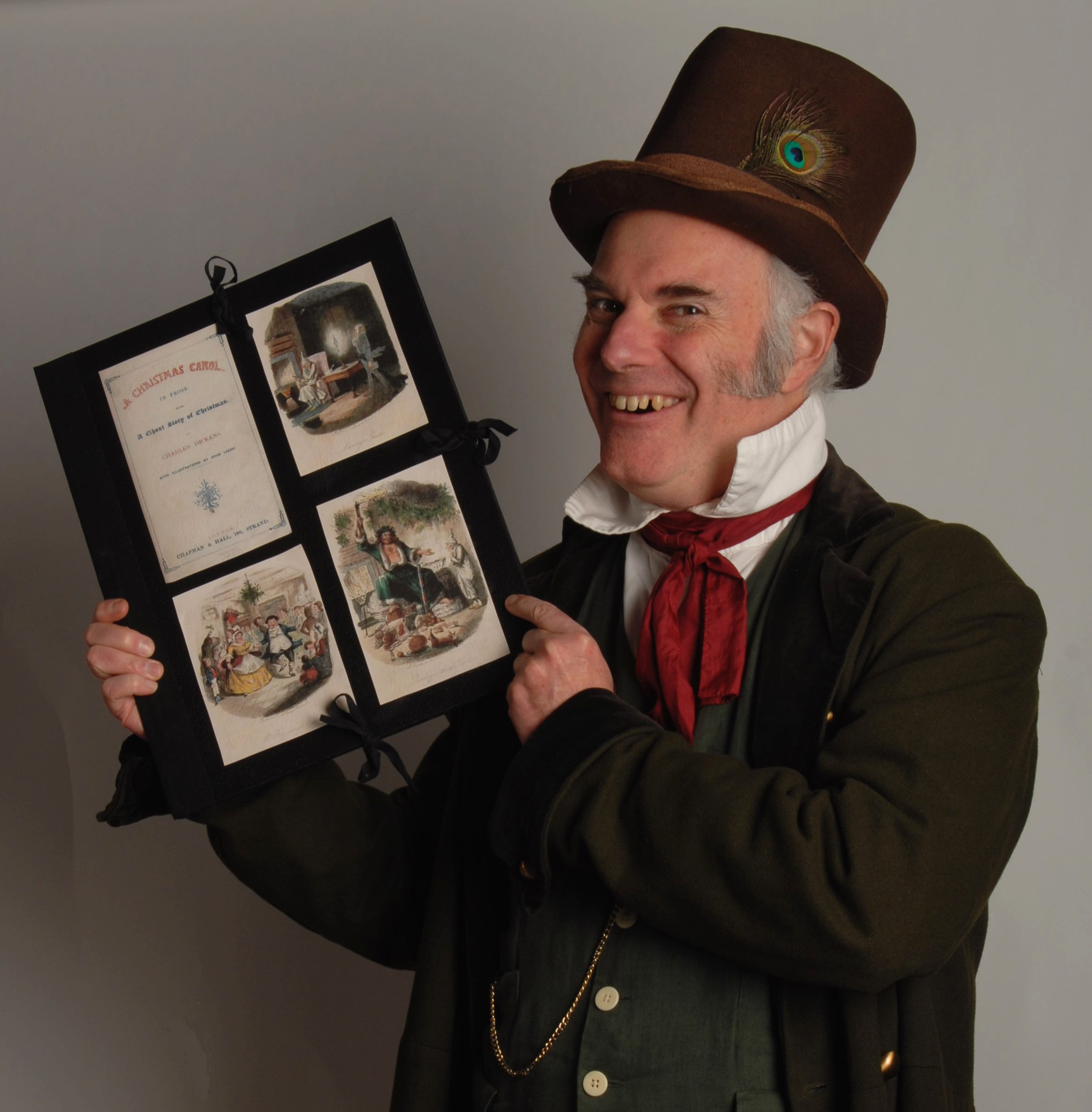 LePage's mission of both "playing to -- and with -- audience members to bring history alive" will quickly become evident when you first encounter him before the performance. His love of improvisation combined with a highly interactive approach means that he may not only engage you in conversation, but also actually encourage you to join him on stage in the opening act! In fact, watch out! Since he's playful, likes to experiment and believes in seizing the moment, even he doesn't always know what's going to happen. This not only helps makes each performance unique, but also keeps it fresh and exciting. As Shakespeare wrote, ". . . one man in his time plays many parts . . ." and LePage's creative use of voice should shine through as he creates all 26 characters, both male and female, all within the span of about two hours. Yes, all the world's a stage, and all the men and women merely players. So come, and play along with Al LePage. He'll begin by taking you back to Astoria in the year 1856, introduce "himself" in character as "Englishmen Thomas Hutchinson, Amateur Thespian", and then bring you both to laughter, and hopefully some tears, during his dramatic reading of Charles Dickens 'A Christmas Carol'.'"
"Clatsop Community Action is a private, nonprofit organization fighting poverty on the North Oregon Coast," states executive director David Hablewitz. "We're part of a statewide network of hunger-relief agencies and coordinate the Clatsop Regional Food Bank. Last year, 30 percent of Clatsop County residents needed to use one of our eight food pantries, six shelters and two meal sites, and children represent 38 percent of those served. Together with those local agencies the Clatsop Regional Food Bank distributed more than 700,000 pounds of food to those in need. The upcoming reading of A Christmas Carol at Clatsop Community College's Performing Arts Center will be a great way to both give and receive during the holiday season to those in need as all donations will be dedicated to our food bank program."

According to the Oregon Food Bank's 2006 Hunger Factors Assessment, a biennial survey of emergency food box recipients in Oregon and Clark County, WA, the area's strong economy is producing jobs, but many of these don't pay enough to cover basic living costs. Factors related to the need for emergency food include high fuel and heating costs plus the high cost of housing. When people need to choose between eating or taking care of their health, the result can either be delaying or not seeking medical care. Also, barriers to employment, such as having no phone or car plus the high cost of child care, can limit both a person's income and thus their ability to pay for food. The good news: For the first time in nine years, the number of emergency food boxes distributed to people who need food in Oregon and Clark County, Wash., did not increase substantially (less than 1 percent increase). The Oregon Food Bank Network's 357 emergency food pantries distributed 755,000 emergency food boxes during fiscal year 2005-06 compared to 751,000 emergency food boxes in 2005. The bad news: The amount of food available in the Oregon Food Bank Network for distribution to people in need decreased almost 5 percent, from 60.8-million pounds in fiscal year 2004-05 to 57.9-million pounds in FY 2005-06. That's a decrease of almost 3-million pounds of food in one year. In other words, although the number of food boxes distributed did not greatly increase, the amount of food available to distribute decreased, and therefore donations to food programs continue to be needed.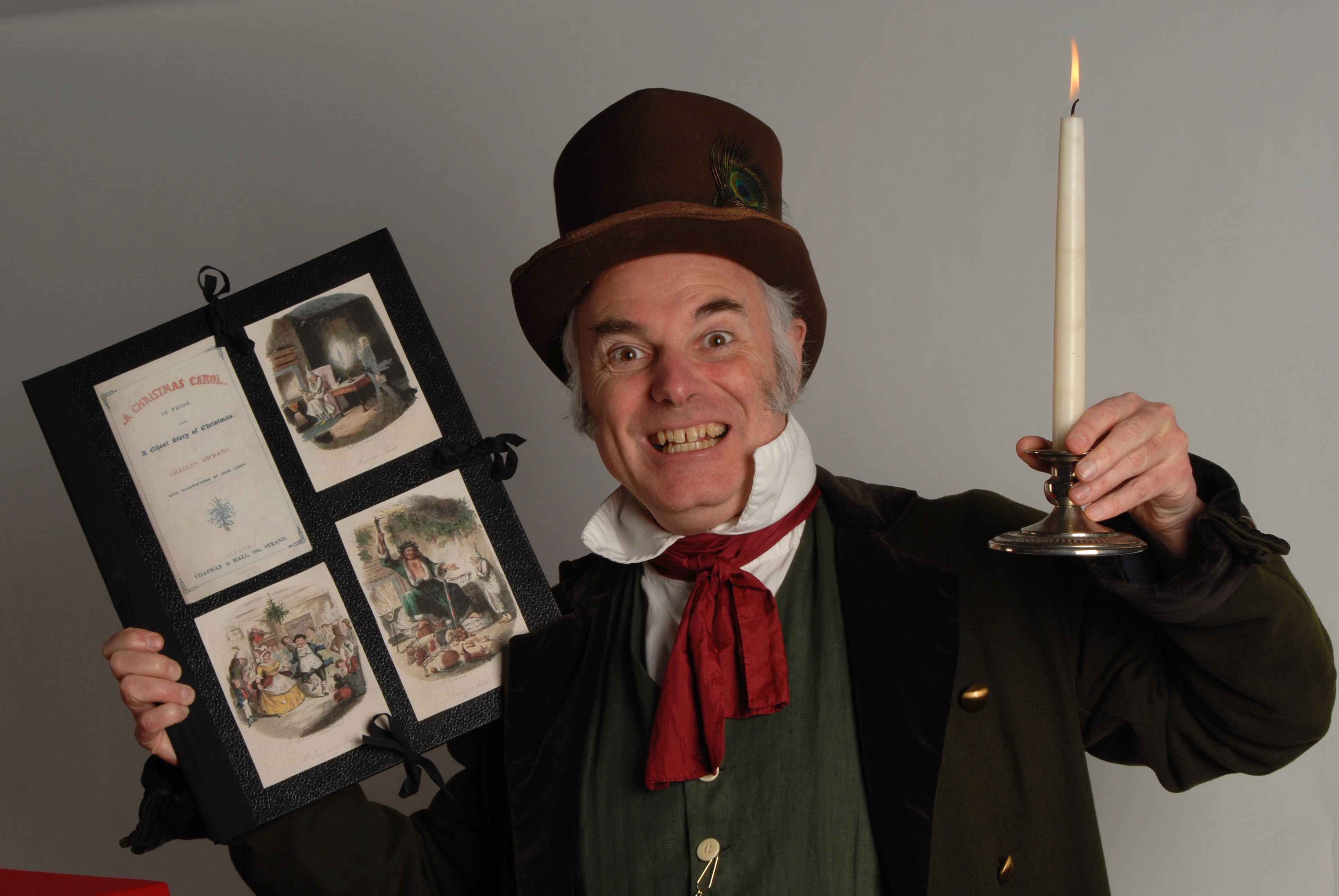 "The Clatsop County Historical Society," notes executive director Mac Burns," is a non-profit educational organization dedicated to preserving and presenting the history of Clatsop County and the surrounding area. The upcoming event is a great way to literally experience history both through performance and place during this holiday season. Al LePage is sure to create a magical moment when he brings to life Charles Dickens classic story of 'A Christmas Carol' in our own very Victorian and festively decorated Flavel House Museum."

Doing these readings for charity in Astoria 1856-style actually has many parallels from history, indeed, history will actually be repeating itself in many ways. First, Dickens gave public readings of his works, "A Christmas Carol' among them. In fact, he developed a "reading version" of it for the stage, and that's the script LePage will be using for his presentations. Dickens also brought the various characters to life simply through changes in his voice, facial expressions and other gestures and movements of the body, and LePage will do likewise. So much for Dickens historic readings, what's significant about Astoria in 1856? This was both the first place and the very year that one of the first actors to perform in the Oregon Territory arrived, exactly 150 years ago this very year! Stephen Massett was an English actor who came to America in the 1850's, first performing in New York, then to California playing to audiences both in San Francisco and then by touring the state's mining camps. In 1856 he took a coastal steamer named the "Columbia" up the coast to Astoria, where he gave his first performance in what would soon become the state of Oregon before continuing on to play in Portland and in cities as far south as Corvallis.


"On a personal level," notes LePage," there's even a couple more things that connect the upcoming readings with history. Massett offered a "one man show" that included singing, dancing and recitation, and he featured a piece in which he portrayed several characters. In my one man show I also plan to sing at least one song and do at least a twirl or two in addition to creating the voices of all the varied characters. Also, as Astoria was the first place for Massett's performance in the Oregon Territory, this will be my very first-ever performance -- both my personal debut as "Historic Amateur Theatricals!" and premier -- of Dickens "A Christmas Carol," too. Lastly, the first years Dickens gave public readings of this story he literally donated all the funds to charity! And I am doing the same to benefit both the Clatsop County Historical Society in their efforts to preserve and present area history and Clatsop Community Action to fight hunger and poverty on the north coast."



#####



CAPTION for IMAGES: "Englishman Thomas Hutchinson, Amateur Thespian" as portrayed by Al LePage is sure to bring lots of laughter,
and hopefully some tears, during his upcoming dramatic readings of Charles Dickens classic 'A Christmas Carol'.'"





NOTE: EMBEDDED IMAGES ARE OFFERED FOR USE BY THE PRINT MEDIA

AND MAY BE CROPPED AND COLOR-BALANCED AS NEEDED

THEY ARE HIGH RESOLUTION PRINT QUALITY IMAGES

PLEASE CREDIT THE PHOTOGRAPHER "DAVID KRAPES"

The Clatsop County Historical Society, based in Astoria, serves both visitors and residents alike through operating year-round the Flavel House Museum, The Heritage Museum and Research Center & Archives, and the Uppertown Firefighters Museum. Call 503-325-2203 for information for hours of operation and admissions to these museums and other programs offered by the Society.


Clatsop Community Action, based in Astoria, helps serve the working poor, the homeless and the near homeless of Clatsop County by assisting clients in meeting their basic needs such as housing and food through programs offering emergency food, energy and rental assistance, low-income housing and lifespan respite referral. Call 503-325-1400 for information on where to go in your community or to make donations of food and other forms of support.


The Clatsop Community College Arts & Ideas Program

encompasses a wide spectrum of cultural and art-related activities and events presented in a setting of artistry and education. The program provides opportunities for creativity and learning for both artists and audience. Call (503) 338-2473 or visit www.clatsopcc.edu and under "Quick Find" search for "Arts & Ideas" for more information about the program and upcoming events at the Clatsop Community College Performing Arts Center.