Great Stories Alive !
"Performance with Passion & Purpose"

PO Box 11045 - Portland, OR 97211 - (503) 335-3876 - GreatStoriesAlive.com


NEWS RELEASE

FOR RELEASE ON: Tuesday, November 25, 2008

Media Contacts:

Al LePage, Performer, Great Stories Alive! / 503-335-3876

Joanne Barry, Director,

A Place to Turn

/ 508-655-8868


A Christmas Carol Solo New England 1866!





Time travel with living history character "Englishman Thomas Hutchinson, Amateur Thespian"
To "New England 1866"

as he presents the timeless holiday classic of personal transformation and charity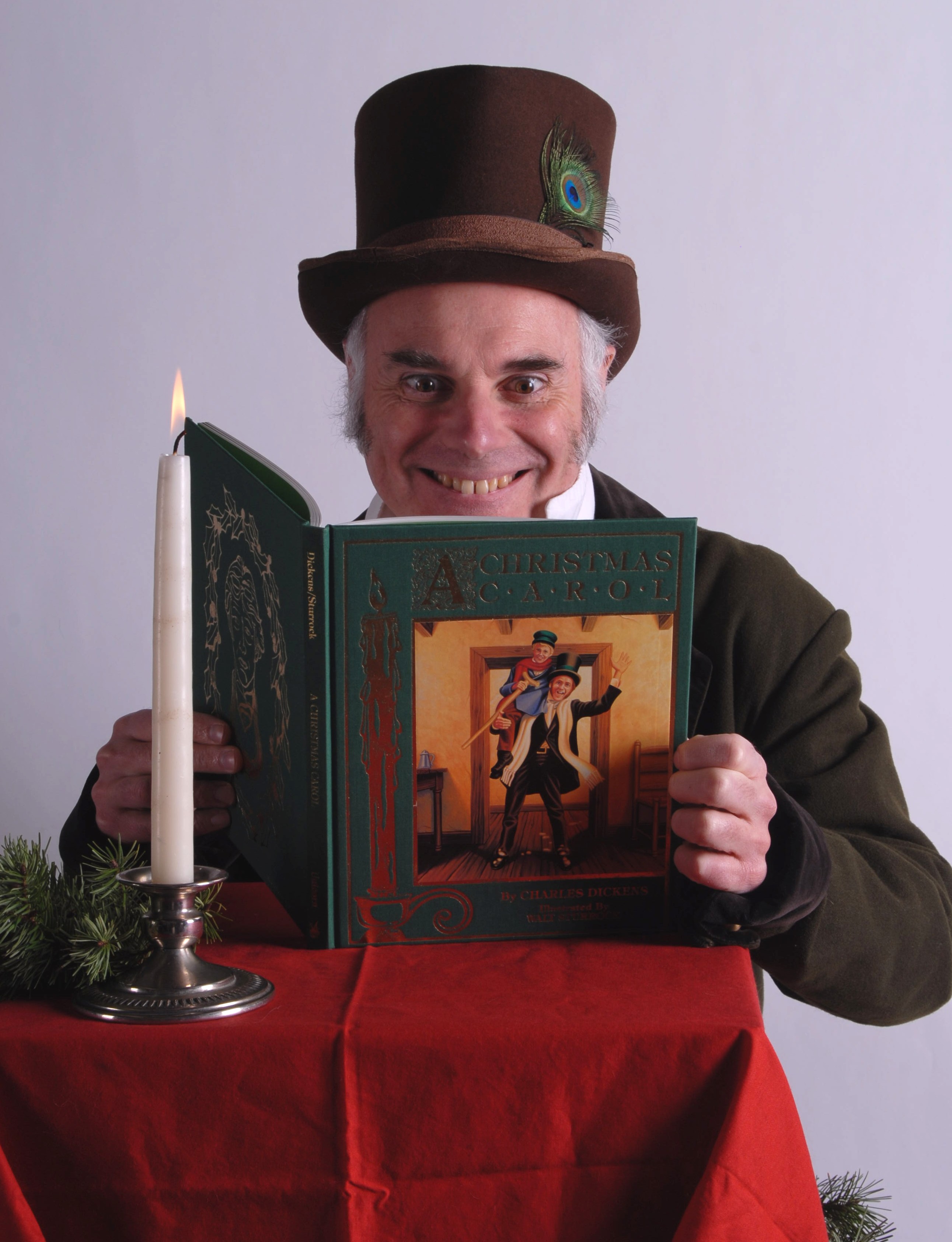 Two dramatic reading performances of Charles Dickens "A Christmas Carol" will be presented in the style of the Victorian era on Friday, December 12th in Natick and Saturday, December 13th in Sudbury. Al LePage will perform as "Englishman Thomas Hutchinson, Amateur Thespian" complete with English accent, clothing of the Victorian period and other accoutrements. A full 2-hour performance happens on Saturday, December 13th at 7PM using Dickens original historic public reading version at the Martha-Mary Chapel, located on the grounds of the historic Wayside Inn along Route 20 in Sudbury. An abbreviated performance of less than 1 hour, will take place as an afternoon matinee on December 12th at 2 PM at the Morse Institute Library, 14 East Central Street in Natick. Doors open thirty minutes before each performance and both shows are best appreciated by adults and mature children 10 years of age and up. Admission is free for the abbreviated matinee at the Morse Institute Library, but any and all donations of funds or food will be gladly accepted to benefit A Place to Turn, a non-profit food pantry program in Natick. Admission for the full evening performance in Sudbury are $10 per person with funds to benefit both non-profit organizations, Longfellows Wayside Inn and A Place to Turn. Tickets for the evening performance at Martha-Mary Chapel may be purchased at the door, but seating is limited so it's recommended you reserve ahead by calling the Wayside Inn at 978/443-1776.
"History
and
Christmas," begins Al LePage, performing artist of Great Stories Alive, "now, there's two great stories! First a story in fact that could have been told when Longfellow himself was around. A simple but great story, too, from the very pen of Charles Dickens. But, there's also the story written by those who have celebrated Christmas since New England separated from Olde England in 1776. So, get ready for a double feature when I not only bring 'A Christmas Carol' to life, but invite you back home to the year 1866."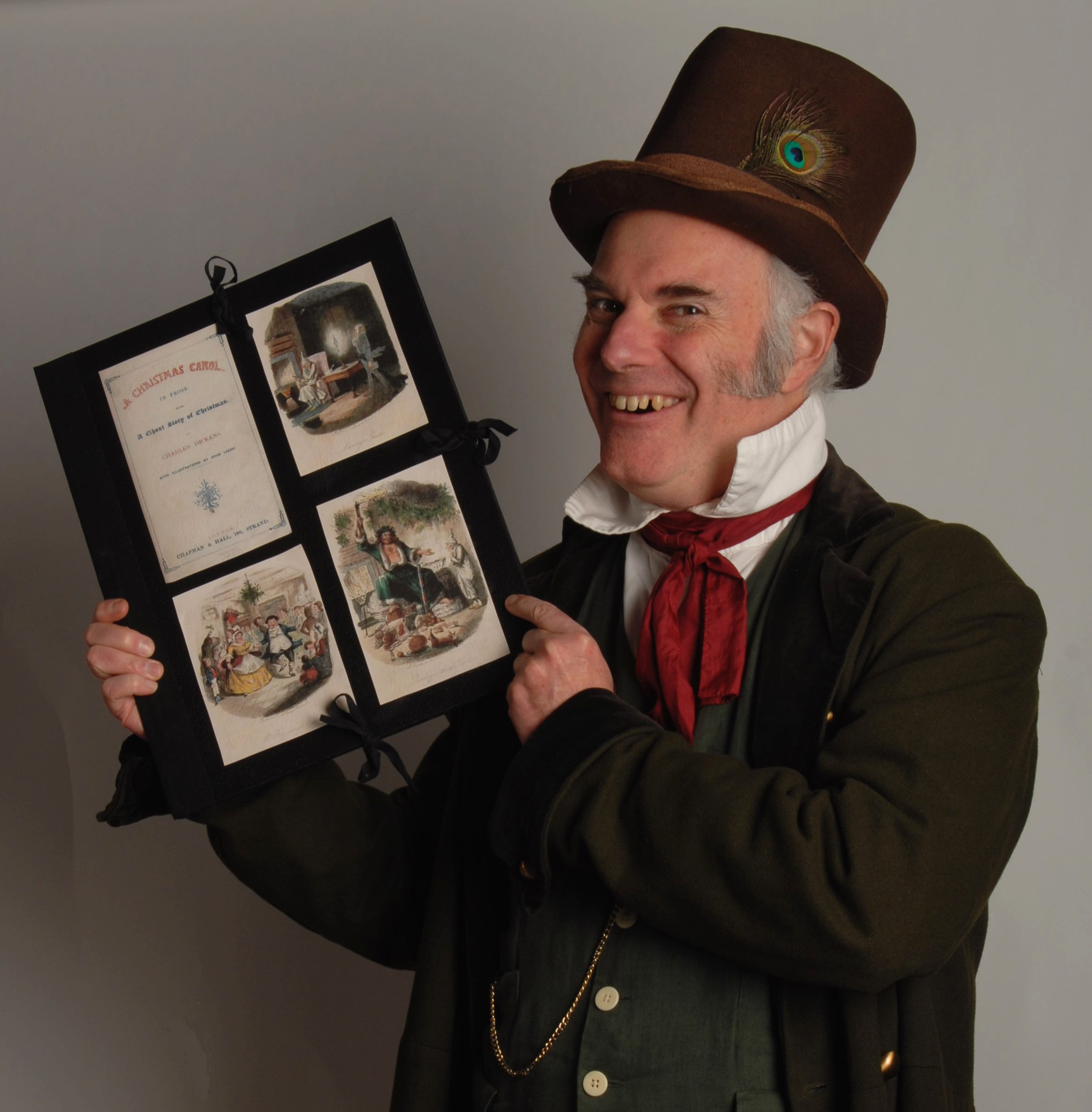 LePage's mission of both "playing to -- and with -- audience members to bring history alive" will quickly become evident when you first encounter him before the performance. His love of improvisation combined with a highly interactive approach means that he may not only engage you in conversation, but also actually encourage you to join him on stage at some point! In fact, watch out! Since he's playful, likes to experiment and believes in seizing the moment, even he doesn't always know what's going to happen. This not only helps makes each performance unique, but also keeps it fresh and exciting. As Shakespeare wrote, ". . . one man in his time plays many parts . . ." and LePage's creative use of voice should shine through as he creates all 26 characters, both male and female, all within the span of about two hours. Yes, all the world's a stage, and all the men and women merely players. So come, and play along with Al LePage. He'll begin by taking you back to New England in the year 1866, introduce "himself" in character as "Englishmen Thomas Hutchinson, Amateur Thespian", and then bring you both to laughter, and hopefully some tears, during his dramatic reading of Charles Dickens 'A Christmas Carol'.'"
"Bringing history to life by portraying a person from past," begins LePage, "is a very powerful way to engage people, and connect them with the history of where they live or visit. Great stories can make people more aware of the reality that surrounds them, and connect them with others and within themselves for greater understanding and compassion. Live drama can bring these great stories to life in a way that provides both entertainment and insight. And sure, I'm performing but it's really more than that for me. I'm really preaching, it's like being able to give one of the best sermons I've ever heard in my life, over and over again! I'm on fire! It feels so meaningful. Hence it truly is a performance with passion and purpose. And other very important purposes include increasing awareness of hunger and benefit A Place to Turn, an emergency food pantry in Natick serving area residents, plus benefit the Wayside Inn in its efforts as a non-profit to preserve history itself."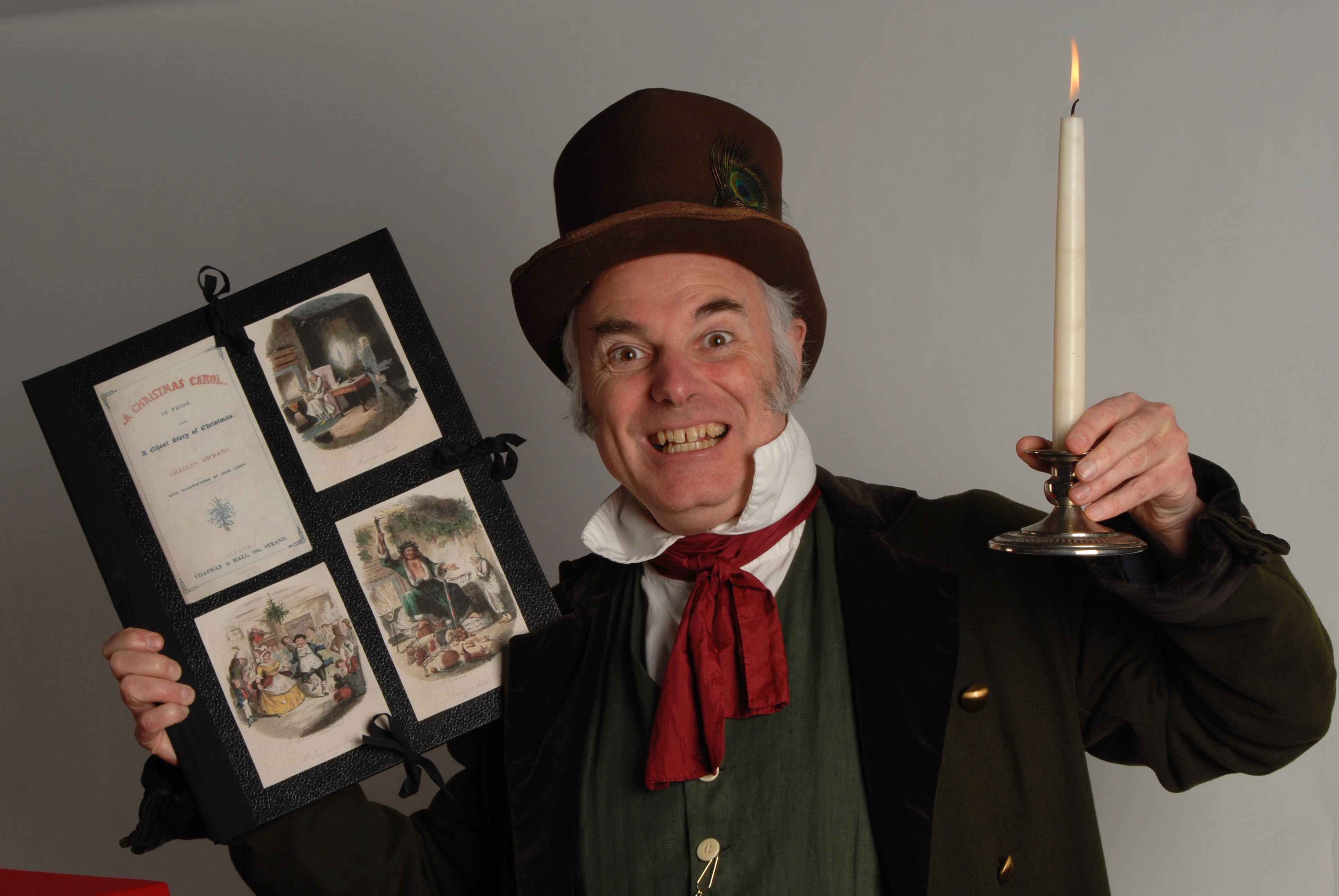 "A Place To Turn has never been busier," notes its director, Joanne Barry, "and the number of families served in 2008 is up by ten percent. Hunger persists as a problem in MetroWest, and with the rise of housing costs; food, medicine prices, etc., more people than ever are relying on emergency food pantries. The high cost of living in this area places a tremendous burden on them. We offer critical hunger relief in an area where one child in five faces hunger. Yes, with the help of a caring community, we are positively affecting the lives of the people we serve."
A Place To Turn is committed to providing emergency food and clothing to our neighbors as an important resource for needy families in the Metrowest area serving over 7,000 people in 2007. A full 23% of those assisted this year had never been to the food pantry in the past. Open Monday through Thursday, and Wednesday evenings, the organization provides emergency food assistance and ongoing support as needed. It works in partnership with the community, where families and individuals unable to meet their basic needs are referred by a network of social service agencies, health care providers, schools and clergy. Also, to establish need, the referral source assesses the presenting concerns and may also offer additional assistance to address the underlying reasons for a food pantry referral. At the pantry, the staff works with individuals and families to clarify needs and collect necessary data, with overall operations involving part-time staff being assisted by close to forty volunteers. In addition to sorting and the distribution of food to clients at the pantry, volunteers purchase items at local markets at sale prices and at volumes significant to the pantry. Staff also realize an important measurement outcome and goal -- being able to focus on implementing their mission in an atmosphere of caring and mutual respect -- based on client and volunteer surveys and other feedback from clients. A Place to turn serves 25 cities and towns in Metrowest, but the majority of clients come from Framingham, Marlboro, Natick, and Ashland.
"Given the themes of personal transformation and charity in Dickens 'A Christmas Carol,'" notes LePage, "it makes a lot of sense to donate my time and talents to benefit local area non-profits and the work they do through dramatic readings of this particular story. On a very personal note I became especially sensitive to the plight of those who are hungry, when as a young man through no fault of my own, myself and other teachers all lost their jobs mid-year when the private school we taught at suddenly closed.. And, given my sparse resources at the time, when faced with the choice of either paying my bills or eating, well, let's just say I got pretty hungry at times. Also, since I grew up in Framingham, I had many occassions both from my childhood and as a young man, to visit and enjoy the Wayside Inn over the years, and supporting its preservation in this way is a great way to give back. Finally, all involved, from volunteers to my hosts, both the Wayside Inn and the Morse Institute Library, from my performances to those who buy the tickets to see them, we all become the story of A Christmas Carol. In essence, everyone's donation, whether of time, money or food, will bring the message of generosity and hope alive and, to update an old phrase, with good will towards men, women and children, too."
#####


A Place to Turn is a non-profit organization that has been serving the needs of the Metrowest community since the late 1970's. The emergency food pantry was established in the old parish house at the Hartford Street Presbyterian Church in Natick, created by a group of local residents troubled both by poverty and the lack of emergency assistance in the local area. It has and continues to provide emergency groceries and clothing to individuals and families in need. Funding and support come from many sources, including the United Way of Tri County, Project Bread, local businesses, schools, religious organizations and many individuals. People can participate in a variety of ways and besides much appreciated financial support, the organization also values the time and talents of volunteers, plus donations of non-perishable food and other essential items. For further information, visit their webiste at www.aplacetoturn-natick.org or phone (508) 655-8868.
Longfellow's Wayside Inn is non-profit historic landmark
located in Sudbury and formed in 1960, when Boston-based trustees assumed responsibility for the Inn given there was no further involvement or support from the Ford family, the Ford Foundation, or the National Trust. Also, since there was no endowment for ongoing maintenance, the Inn had to become successfully self-sustaining. The Inn's financial success has been due to both the strong management skills and dedication of its local trustees committed to historic preservation of the buildings and property and to innkeepers with sound hotel and restaurant management skills. Since 1960, the Inn has had a steady clientèle, sufficient revenues to maintain the buildings and to initiate small capital projects, and has been able to put aside some operating reserves. The Wayside Inn Historic District was designated a Local Historic District in 1967, a Massachusetts Historic Landmark in 1970, and a National Register District in 1973. The Inn will celebrate its 300th birthday in 2016, thanks to the many important people who came, stayed, and contributed spirited work to commemorate and preserve the property. For further information, visit www.wayside.org or phone 978-443-1776.

Morse Institute Library originally opened its doors to the citizens of Natick on January 1, 1874, and has grown to meet demands for increased library services. In the mid-1980s, it once more needed to expand calling for a major renovation that would provide more space, bring the library into the era of electronic information, allow for handicapped access, and provide the facilities needed to become the cultural and civic center of Natick and into the twenty-first century. The new facility, which opened in April 1997, doubled the space of the original library. It now provides meeting spaces for public use; spacious areas for children's and young adult services; reference and circulation departments with space to expand and the internal technological capabilities to allow the library to meet the growing use of electronic services. Use and support by local organizations and businesses continues to grow with over one thousand meetings held in the meeting halls each year and a growing number of programs co-sponsored by the library, municipal departments and service organizations. The building is completely ADA accessible, and offers a variety of technical aids for the hearing and vision impaired. The operating funds for the library are provided by the Town of Natick. For further information phone 508-647-6520 or visit www.morseinstitute.org.
NOTE: EMBEDDED IMAGES ARE OFFERED FOR FREE USE BY THE PRINT MEDIA
AND MAY BE CROPPED AND COLOR-BALANCED AS NEEDED
THEY ARE HIGH RESOLUTION PRINT QUALITY IMAGES
PLEASE CREDIT THE PHOTOGRAPHER "DAVID KRAPES"
CAPTION SUGGESTION for IMAGES:
"Englishman Thomas Hutchinson, Amateur Thespian" as portrayed by Al LePage is sure to bring lots of laughter,
and hopefully some tears, during his upcoming dramatic readings of Charles Dickens classic 'A Christmas Carol'.'"