Great Stories Alive !
"Performance with Passion & Purpose"
PO Box 11045 - Portland, OR 97211 - (503) 335-3876 - GreatStoriesAlive.com

NEWS RELEASE
FOR RELEASE ON: Monday, November 24, 2008
Media Contacts:

Al LePage, Performer, Great Stories Alive! / 503-335-3876

Jody Susong, Marketing & Development Officer,

Family Service of the Piedmont

/ Office 336-387-6161 Ext. 1105 / Cell 336-689-5297


"A Christmas Carol Solo" Victorian Style!





Time travel with living history character "Englishman Thomas Hutchinson, Amateur Thespian"
To "Greensboro 1858"

as he presents the timeless holiday classic of personal transformation and charity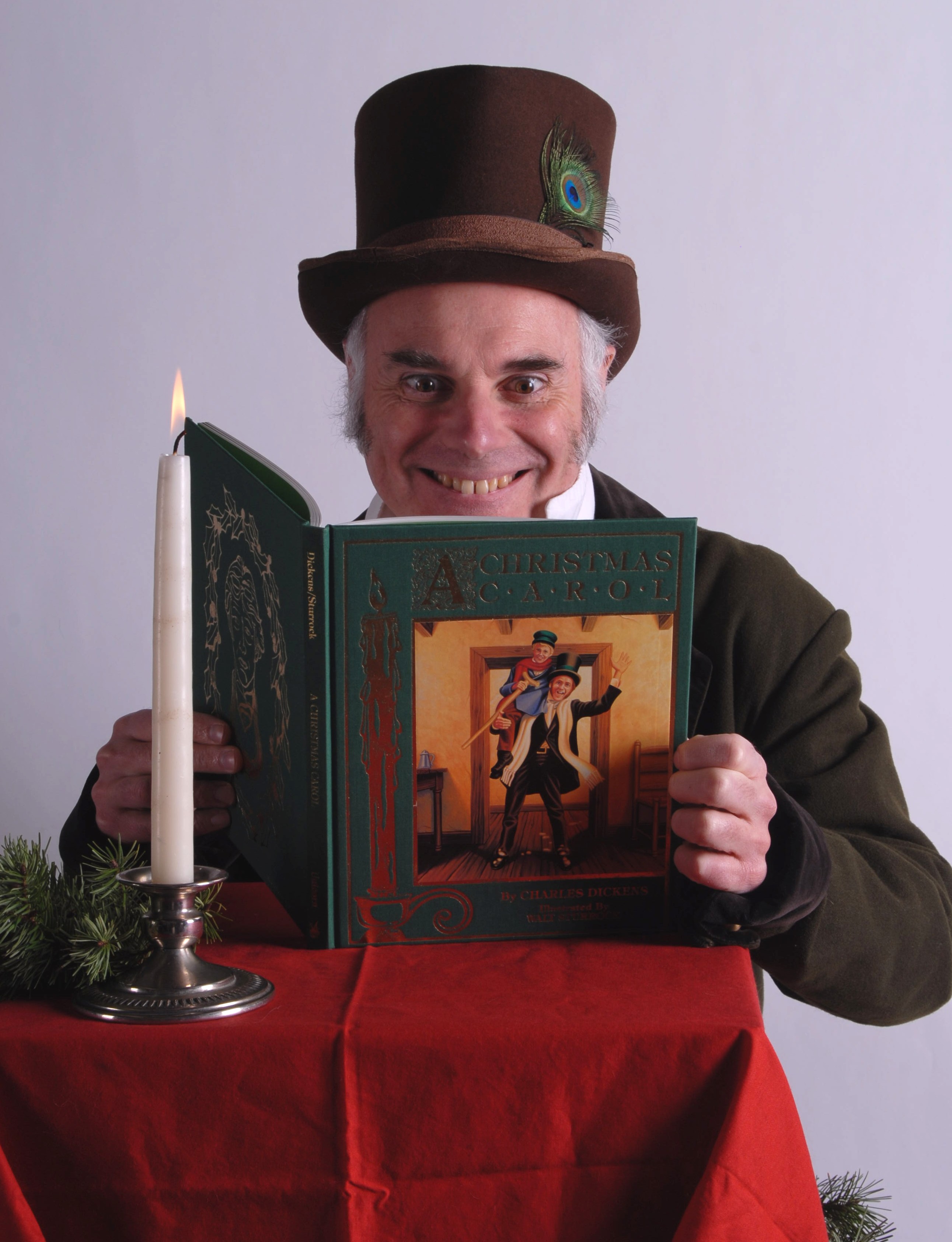 Two dramatic reading performances of Charles Dickens "A Christmas Carol" will be presented in the style of the Victorian era at 7 PM on Friday, December 5th and Saturday, December 6th in Greensboro. Al LePage will perform as "Englishman Thomas Hutchinson, Amateur Thespian" complete with English accent, clothing of the period and other accoutrements. A full 2-hour plus performance happens on Saturday, December 6th using Dickens own historic public reading version in Bryan Auditorium, located in the Frank Family Science Center of Guilford College, 5800 West Friendly Avenue, with parking in building's adjacent lots off of New Garden Road. A 1-hour plus abbreviated performance will take place at the Church of the Convenant on Dec 5th, at 501 S. Mendenhall Street and Walker Avenue. Doors open at 6:30 PM and both shows are best appreciated by adults and mature children 10 years of age and up. Admission is $10 per person with all funds to benefit the Clara House program of Family Service of the Piedmont. Tickets may be purchased at the door or reserved ahead on-line at brownpapertickets.com or by calling their 24/7 hotline, 1-800-838-3006.
"History
and
Christmas," begins Al LePage, performing artist of Great Stories Alive, "now, there's two great stories! First a story in fact that could have been told when Greensboro was but a half a century old. A simple but great story, too, from the pen of Charles Dickens himself. But, there's also the story written by those who have celebrated Christmas since Greensboro was born in 1808. So, get ready for a double feature when I not only bring 'A Christmas Carol' to life, but invite you back home to the year 1858."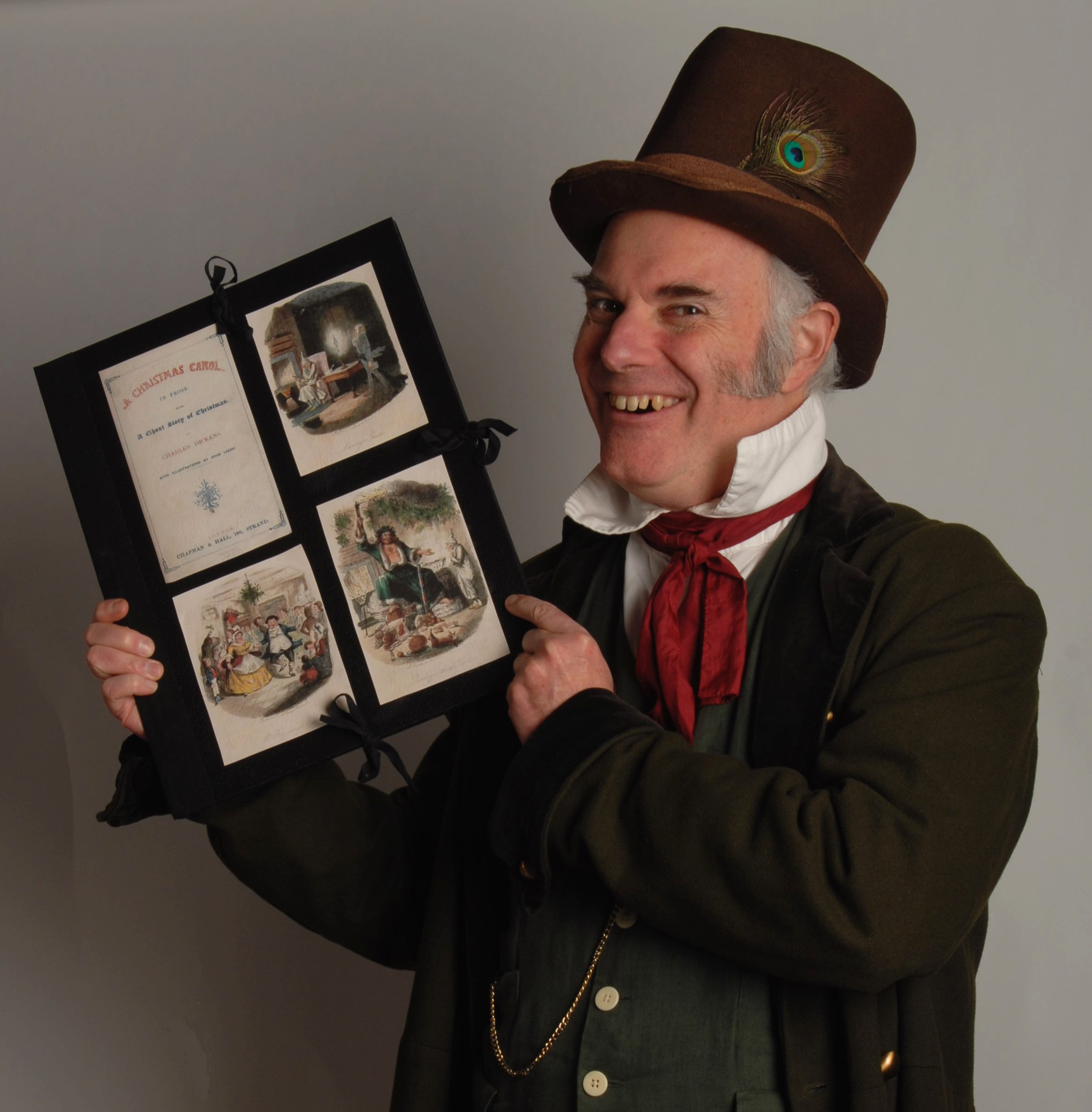 LePage's mission of both "playing to -- and with -- audience members to bring history alive" will quickly become evident when you first encounter him before the performance. His love of improvisation combined with a highly interactive approach means that he may not only engage you in conversation, but also actually encourage you to join him on stage at some point! In fact, watch out! Since he's playful, likes to experiment and believes in seizing the moment, even he doesn't always know what's going to happen. This not only helps makes each performance unique, but also keeps it fresh and exciting. As Shakespeare wrote, ". . . one man in his time plays many parts . . ." and LePage's creative use of voice should shine through as he creates all 26 characters, both male and female, all within the span of about two hours. Yes, all the world's a stage, and all the men and women merely players. So come, and play along with Al LePage. He'll begin by taking you back to Greensboro in the year 1858, introduce "himself" in character as "Englishmen Thomas Hutchinson, Amateur Thespian", and then bring you both to laughter, and hopefully some tears, during his dramatic reading of Charles Dickens 'A Christmas Carol'.'"
"Bringing history to life by portraying a person from past," begins LePage, "is a very powerful way to engage people, and connect them with the history of where they live or visit. Great stories can make people more aware of the reality that surrounds them, and connect them with others and within themselves for greater understanding and compassion. Live drama can bring these great stories to life in a way that provides both entertainment and insight. And sure, I'm performing but it's really more than that for me. I'm really preaching, it's like being able to give one of the best sermons I've ever heard in my life, over and over again! I'm on fire! It feels so meaningful. Hence it truly is a performance with passion and purpose. And one very important purpose is also to increase awareness of domestic violence and benefit Clara House, a shelter for women and children victims operated in Greensboro by Family Service of the Piedmont."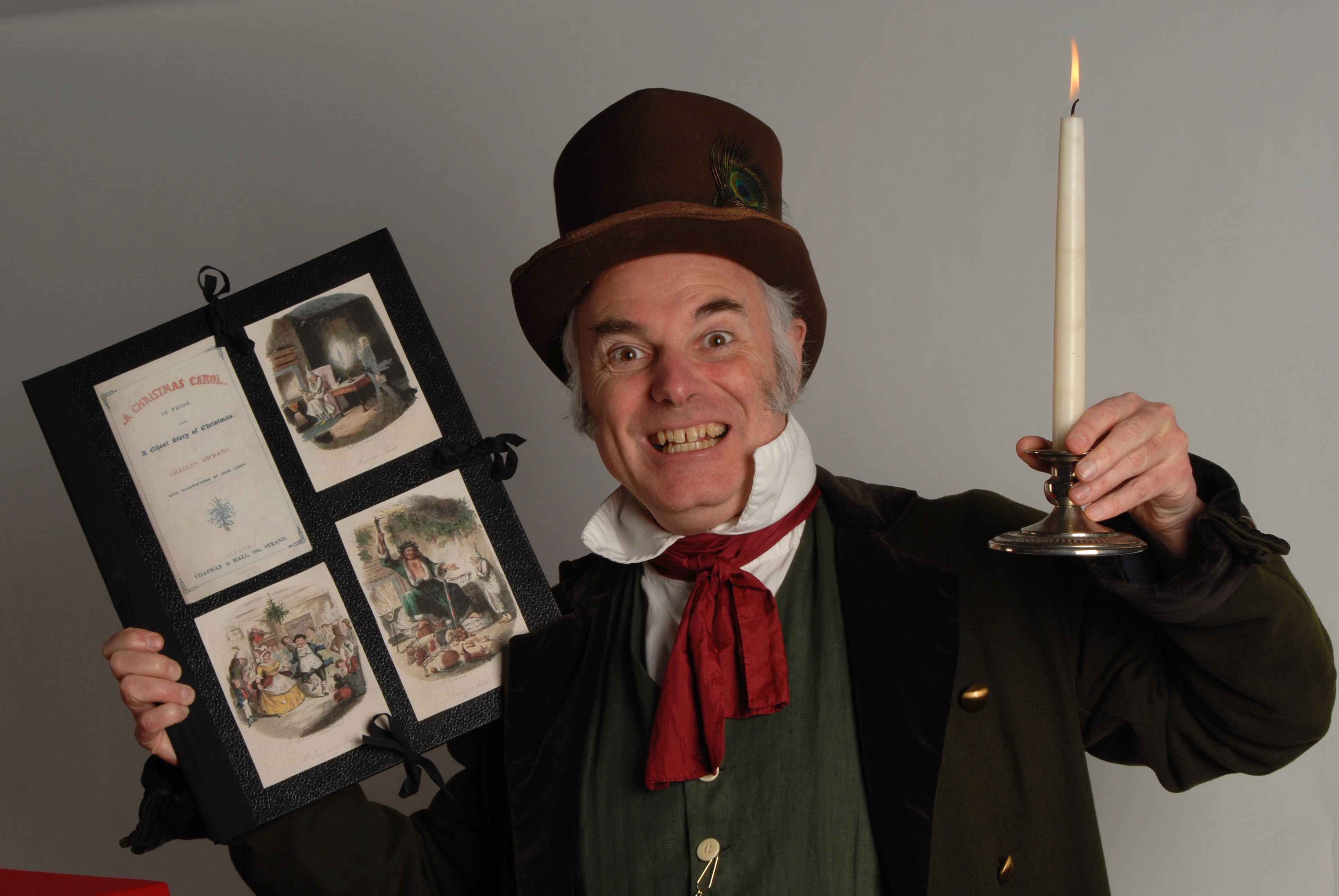 Domestic violence is physical and/or emotional attacks directed at one's partner. Victims experience humiliation, erosion of self-esteem, a loss of control over their lives, feelings of helplessness, fear of physical injury or death, fear of having their children taken from them by their partner, isolation, depression, numbness, or anger. As violent and abusive behaviors escalate, the lives of family members are placed at risk. The fear of losing control of their rage often dominates the lives of the men exacerbatging depression, anxiety, and other emotional problems, sometimes making these perpetrators even more dangerous to themselves or others. Children living in families experiencing domestic violence are at risk of being abused physically and/or emotionally. They often experience low self-esteem, impaired intellectual development, inability to concentrate, and difficulty making friends. They are at an increased risk of acting out behaviors at school and home, choosing an abusive life partner, becoming an abuser, and participating in criminal acts. Finally, the community is affected through increased medical costs for victims, absenteeism and violence in the workplace, and the continuation of the cycle of violence by the children at home and in the community. Family Service of the Piedmont offers victim advocate services, including crisis intervention, victim support through legal and medical proceedings, a 24-hour crisis line, shelters for battered women and their children (Clara House & Carpenter House), a women's therapy group and a children's treatment group. In addition, groups for male batters, and individual and family counseling are also available. Call 336-387-6161 in Greensboro or 336-889-6161 in High Point to request services.
"Given the themes of personal transformation and charity in Dickens 'A Christmas Carol,'" notes LePage, "it makes a lot of sense to donate my time and talents to benefit local non-profits and the work they do through dramatic readings of this particular story. On an even more personal level these may well be some of the most special performances I will ever do," adds LePage, "for two reasons. First, my aging mother's never seen me perform this particular story, so I've especially traveled across country to Greensboro so she can, it's this year's Christmas gift to her. And second, as a child in a family where she experienced domestic violence herself, I want to honor her and what she and her mother and brothers and sister went through by performing them to benefit Clara House. In essence, all involved from volunteers to Guilford College and the Church of the Covenant hosting the events, from myself to those who buy the tickets, we all become the story of A Christmas Carol, we bring the message of generosity and hope alive and, to update an old phrase, with good will towards men, women and children, too."
#####


Family Service of the Piedmont is the largest private nonprofit agency serving children and families in Guilford County for more than 60 years. The agency provides accessible, affordable, high quality counseling to families and individuals who are experiencing problems in dealing with crises in their lives; raises public awareness on issues that affect the stability of society; and offers community education and training programs on family and individual crises. Last year, the agency served more than 26,000 people through its programs. For further information, contact Family Service of the Piedmont by phone at 336-387-6161 or visit their website www.familyservice-piedmont.org.
The Church of the Covenant, a congregation of the Presbyterian Church (USA), is inclusive, open-minded and provides a home for the soul. Located in Greensboro it provides office, working, and meeting space to a number of non-profit organizations, and seeks to discover new ways of exhibiting the grace and peace of God through the way in which we care for one another, our neighbors, and the place where God has put us. For further information about its services, programs, activities, events, etc. phone 336-275-6403 or visit www.athinkingchurch.org.
Guilford College is the fourth oldest degree-granting institution in North Carolina, the campus being an area of greenery, quiet and scholarship within Greensboro's city limits.
It draws on Quaker and liberal arts traditions to prepare men and women for a lifetime of learning, work and constructive action dedicated to the betterment of the world. The college provides student-centered instruction that nurtures each individual amid an intentionally diverse community, a values-rich education, a challenging academic program, a global perspective that values people of other cultures and the natural environment in which we all live. and access to work and service opportunities. For further information phone 336-316-2000 or visit www.guilford.edu.
NOTE: EMBEDDED IMAGES ARE OFFERED FOR FREE USE BY THE PRINT MEDIA
AND MAY BE CROPPED AND COLOR-BALANCED AS NEEDED
THEY ARE HIGH RESOLUTION PRINT QUALITY IMAGES
PLEASE CREDIT THE PHOTOGRAPHER "DAVID KRAPES"
CAPTION SUGGESTION for IMAGES:
"Englishman Thomas Hutchinson, Amateur Thespian" as portrayed by Al LePage is sure to bring lots of laughter,
and hopefully some tears, during his upcoming dramatic readings of Charles Dickens classic 'A Christmas Carol'.'"