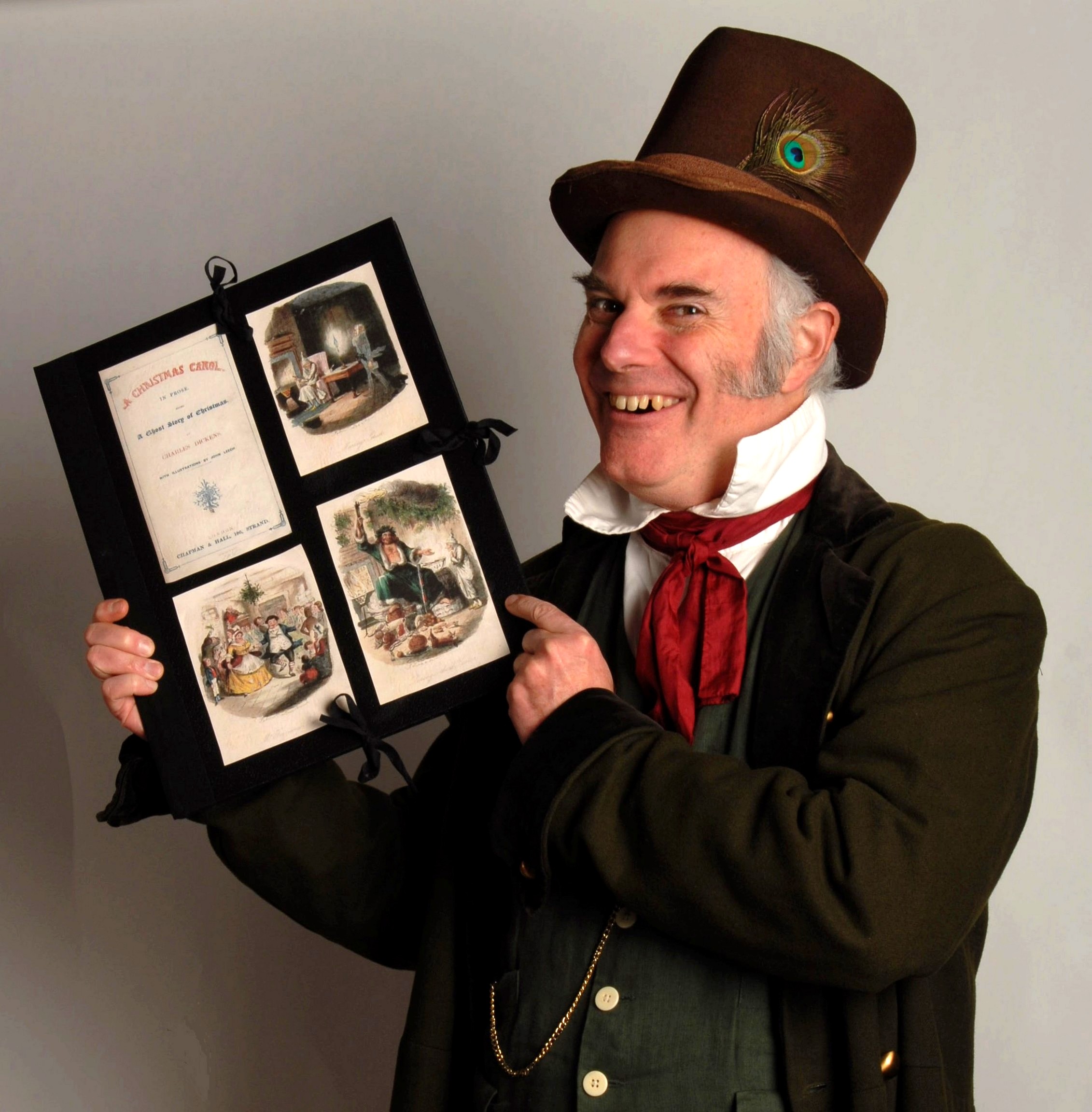 "Start the Time Machine," begins actor Al LePage, "we're going for a ride! We're all heading back in time to the year 1876 -- just nine years after Dickens was in Boston in 1867 -- to experience the same historic events, in the same historic spots, and exactly on or around the very same historic calendar dates that the famed author himself did his first dramatic readings in Boston. And I'll be doing these special performances of
A Christmas Carol
just like Dickens first did for charity, and using his acting style, and based on his very own historic script, and all in the guise of a nineteenth century Victorian Englishman, accent and all!"
LePage entertains appreciative audiences with his one-man "solo" of Dickens'
Christmas Carol
and "this year" takes you back to "Boston 1876" as Victorian-era "Englishman Thomas Hutchinson." His full performances not only use Dickens exact public reading version, but also are done just like Dickens did simply by using his voice, facial expressions, gestures and movement to create all 26 characters -- accents and all -- plus sound effects, too! From Scrooge to Tiny Tim, from Marley's Ghost to Mrs. Cratchit, there's howls and growls, bangs and bongs, a dance with a song, lively laughter and heartfelt tears. His love of improvisation combined with a highly interactive style means that he may not only engage you in conversation, but also encourage you to join him on stage at some point! In fact, watch out! Since he's playful, likes to experiment and believes in seizing the moment, even he doesn't always know what's going to happen next. And, before each reading, he's definitely got what could aptly be called "his stories" to tell both in "the year" and the place he's performing to connect, interpret, and share history with the audience. This not only makes each performance unique, but also keeps them fresh and exciting, spontaneous and full of surprises, too!
Photo Credit:
Great Stories Alive!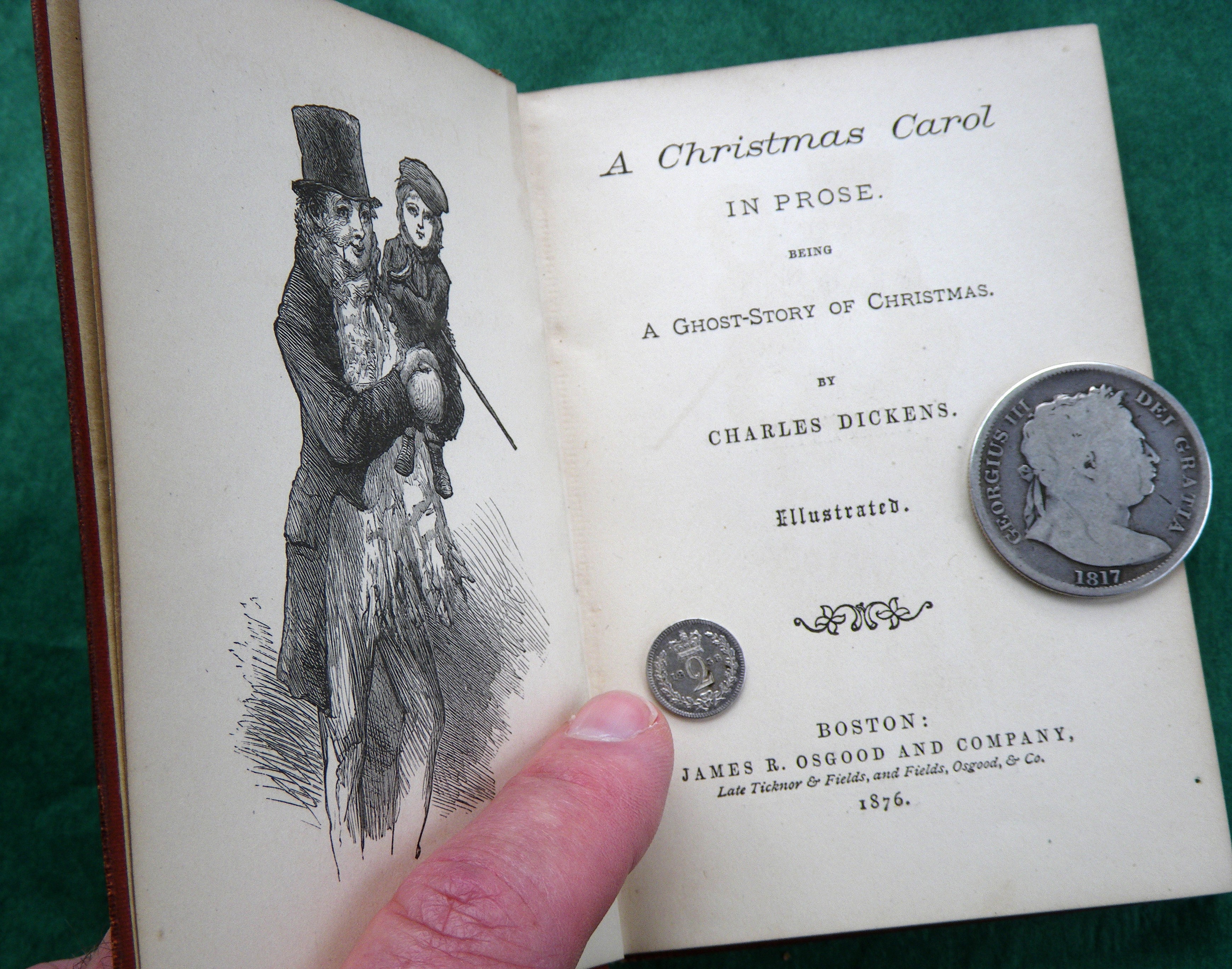 "I may have a surprise for you, too" adds LePage, "in the form of a gift! Yes, they'll be some sort of special gift given away at every event wherever I perform. But for the grand performance in Converse Hall, well that's just too big for only one gift. In fact, since it's my very first performance where Dickens himself also gave his very first public reading performance in Boston, and the fact that it will be held on the same exact calendar date in 1867, I want to give away not one, but three very special gifts to commemorate the occasion. So, two nineteenth century British silver coins mentioned in the
Carol
– an 1838 twopence, pronounced tuppence, and an 1817 half-a-crown – plus a copy of
A Christmas Carol
published coincidentally, of all places, in Boston, and in the year 1876, too, will be given away that very evening."
A
"
Tuppence," Half-a-Crown, and an 1876 edition of the Carol to be given away at the "grand performance" in Converse Hall!
(Image to left)
Hunger close to home is something LePage experienced as a young man when the school he'd been working at as a teacher in Boston unexpectedly closed over the winter holiday break. His savings were meager, and deciding not to go on unemployment at the time, struggled to make ends meet. He decided to pay his bills, and had little money left for food. So, he got hungry for the very first time in his life. He was not starving, of course, but he remembers it being winter and spring, and he felt cold and
hungry, and may even have been slightly malnourished as time went on. That experience has stuck with him ever since, and that's why his primary focus is to donate all proceeds to benefit organizations that help prevent hunger close to home. So, here in the Boston area where he grew up, benefiting the Greater Boston Food Bank seemed to be the obvious choice.
Hunger close to home continues to grow. Here are just a few highlights according to the Hunger in Eastern Massachusetts 2010 report complied by the Greater Boston Food Bank (GBFB). Annually in eastern Massachusetts, 394,300 people receive food that was distributed to GBFB member agencies. This is a 23% increase from 2005 which is a consistent trend in what the hunger relief network has been seeing in the past four years and, in particular in the past 16 months with the worst economic recession experience in the US since the Great Depression. At any given time, at least one third of clients have had to make choices between food and other critical survival factors such as heat, housing, medical care or transportation. One in three households receiving help through emergency food providers has at least one child under the age of 18 years. Clearly the weakened economy has had a continued, deleterious impact on low income households in eastern Massachusetts. From 2005 to the present, the number of pounds that GBFB distributed has increased by 27% from 24,764,467 to 31,496,955. Reliance on GBFB by pantries, soup kitchens, and shelters continues to increase with 91% overall saying that it would be a significant or devastating loss if there were no Food Bank.
"Englishman Thomas Hutchinson" portrayed by Al LePage as "Scrooge" himself!
Image by Melissa Ostrow/www.melophoto.net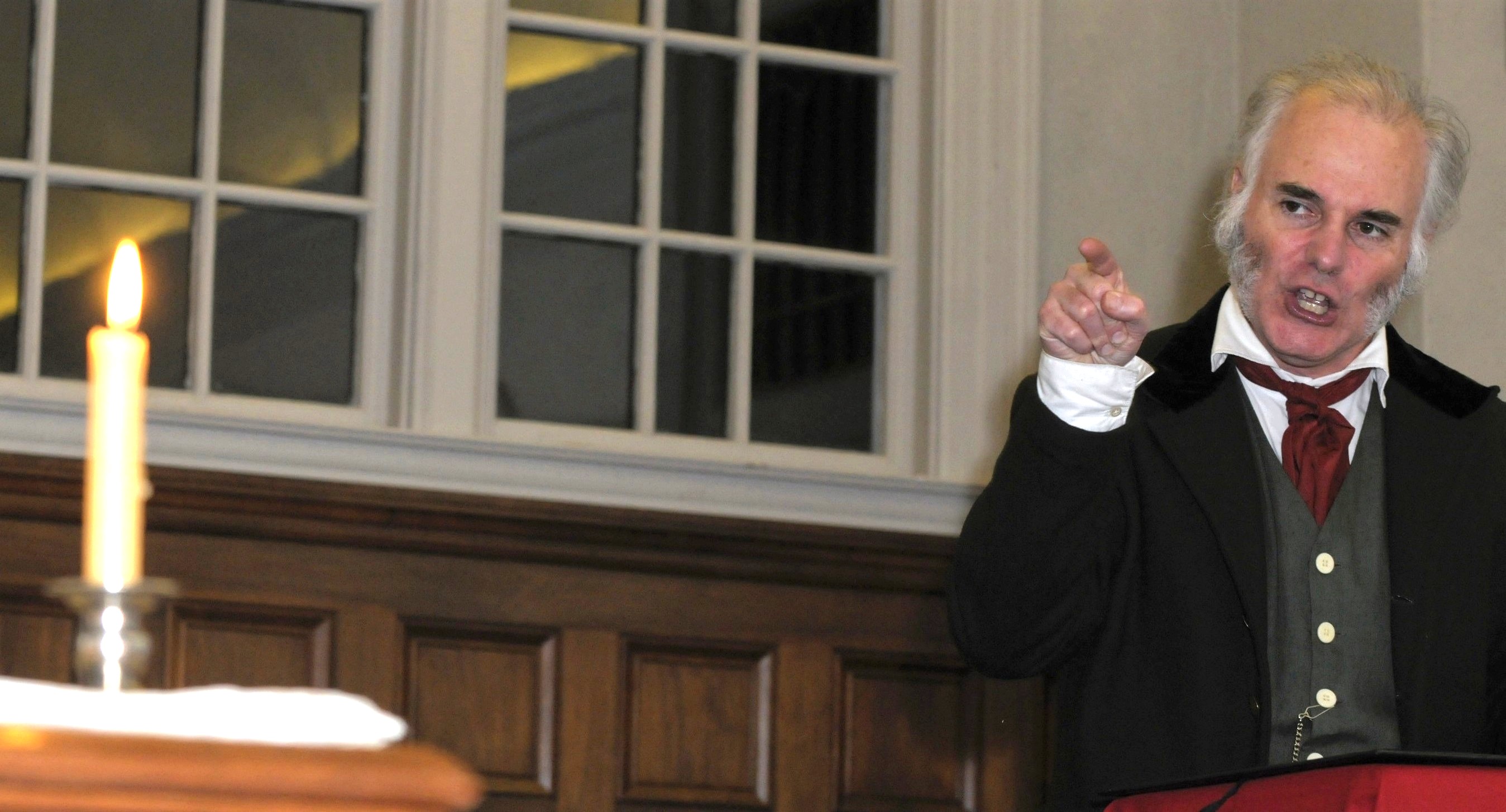 "There are many things I like about doing these events," notes LePage, "but besides being able to donate my talents to help prevent hunger close to home, whenever I pick up the phone to potentially arrange a venue, an event, or publicity, I get to offer others an opportunity to be generous, too. I get a chance to ask others to live the spirit of giving right there and then, thus making one of the messages of the
Carol
a reality as part of the whole process. That's what the Omni Parker House Hotel did when they agreed to host and sponsor the events there, that's what GateHouse Media New England did when they agreed to be our print media sponsor and donate ad space in MetroWest Daily News, and that's what many others have done, in ways both large and small, from people like Dudley and Jacqueline Laufman of 'Two Fiddles' to local patron Paula Jacoff. Finally, of course, there's the people who buy tickets and attend the events, since all proceeds go to benefit the Greater Boston Food Bank. So, you see, it's not just a performance of
A Christmas Carol
, it's about everyone being involved in someway to help to deal with the issue of hunger in Boston and local communities beyond. Like Dickens wrote in the
Carol
, 'it is good to be children sometimes' and these events are definitely about that, but also, and at the heart of them, they're about putting away childish things. They're not just about the 'all about me' perspective often held by children, they're also about the 'we,' about how each of us can be generous and give to others in need, with whatever gifts we can bring to the table."
LePage, a native of Framingham, began bringing history to life through improvised portrayals of real people from the past for over seven years at historic sites, museums, and other venues throughout the Pacific Northwest. He's written and produced his own historical dramas as one-man shows, appeared on the nationally televised PBS "History Detectives" series in roles ranging from a bartender to Robert E. Lee. He's been giving performances of the
Carol
to benefit charity in the United States and Canada since 2006, and will be giving his 3rd annual performance the first Saturday in December at Longfellow's Wayside Inn. Oregon Public Broadcasting recently produced and will premier LePage this December doing his own shortened version of Dickens'
Christmas Carol
as a one-hour radio program on stations throughout the state.
"Englishman Thomas Hutchinson" is a fictitious character originally developed to share regional and western history. He's not only like a Frankenstein of history, being made up of the bits and pieces of people who once really did live, but also a sort of Forrest Gump of history, too, somehow always showing up whenever and wherever history is being made! He now continues to live on as a traveling Victorian-era "Thespian" giving dramatic readings of
A Christmas Carol
to benefit charity. In order to make his character both believable and credible – or as incredible as the stories he tells seem to be – LePage not only meticulously researches the history of the place and "the year" he performs, but also often travels to historic sites to soak up the sights and sounds and whatever else he can, not only to better transport himself, but also audience members, back in time.
Charles Dickens arrived in Boston on Tuesday, November 19th, 1867, and took up residence at an earlier version of today's Omni Parker House Hotel. The author had just traveled by ship from England to America to do a public reading tour of dramatic scenes from some of his works. His manager had arranged for him to recover from his sea voyage with two weeks rest, which soon frustrated the impatient Dickens, who wanted to perform. He was invited to this and that function, but like any serious actor he knew he needed to rehearse, and apparently used it as both a valid reason and an excuse to be left alone. He did apparently, from all known facts and inferences, give his very first reading in the existing Press Room of the time at the famed luxurious hotel on Saturday, November 30th. This first informal reading was to a small group of men, Longfellow and Emerson among them, called "The Saturday Club" and the story he chose to read was his public reading version of
A Christmas Carol
. A few days later, on a Monday evening, December 2nd, he gave his first public reading performance at 88 Tremont Street in the original location where the old Tremont Theater once stood. Boston apparently had an early snowstorm that very morning, but by nightfall all was clear and the carriages lined up and down Tremont Street and beyond to see and hear him. The event went well, very well indeed, and he did three more performances on Tuesday, Wednesday, and Thursday of the same week in Boston, heading off for New York by train for more performances thereafter. Both the Parker House Hotel, where Dickens stayed while in Boston, and the venue where the original theater once stood were rebuilt after 1867, but at the very same locations. In fact, today's Omni Parker House Hotel has even kept some of the artifacts that Dickens actually used, such as the marble fire place mantle, now in today's Dickens Room, and the mirror outside today's Press Room is the very same one that Dickens apparently used to rehearse and practice his facial expressions and gestures for the greatest dramatic effect. He did perform in the then "Press Room" though, too. So all in all, although LePage can not perform in the same exact room and hall as Dickens, he can indeed perform at the very same locations, and in the same sort of venues that he did, and most definitely, at Converse Hall on the same exact historic calendar date of December 2nd.
(Click here for more details -- in Dickens own words -- about his experiences while in Boston and New York during November and December 1867.)
#####

The Greater Boston Food Bank (GBFB) is the largest hunger-relief non-profit organization in New England, and one of the largest food banks in the country, working to help end hunger in eastern Massachusetts. It distributes more than 34 million pounds of food and grocery products annually to a network of nearly 600 member hunger-relief agencies. The need for food, though, continues to grow in the 190 communities served. You can learn more about the GBFB and help make a difference in the fight against hunger by visiting their website at www.gbfb.org or by calling 617-427-5200.
_____________________________________________________________________________________________________
NOTE TO MEDIA:
Embedded images are high resolution and offered for free use by the print media
for stories related to these performances and may be cropped and color-balanced as needed.
Please credit the photographers as follows:


"Scrooge" by "Melissa Ostrow/www.melophoto.net"/ "Gifts" by "
Great Stories Alive!
"/ All other images by "David Krapes"
CAPTION SUGGESTION for IMAGES
without captions

:
"Englishman Thomas Hutchinson," portrayed by Al LePage is sure to bring lots of laughter, and hopefully some tears, during his upcoming dramatic reading performances of Dickens classic
A Christmas Carol.